2011/01/22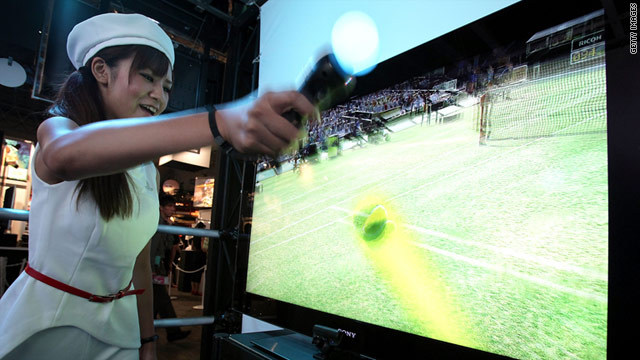 Scott Steinberg is the head of technology and video game consulting firm TechSavvy Global, as well as the founder of GameExec magazine and Game Industry TV. The creator and host of online video series Game Theory, he frequently appears as an on-air technology analyst for ABC, CBS, NBC, Fox and CNN.
(FunneR)

-- Proving that the Wii's motion-sensing controls weren't a fad, both Sony's PlayStation Move and Microsoft's Kinect had strong holiday seasons, suggesting a growing appetite for active video games.
Sony and Microsoft sold more than 4.1 million and 8 million units over the holidays, respectively, on the strength of titles like "Sports Champions" and "Dance Central."
And as a host of new compatible offerings illustrate, both these and other manufacturers hope to further expand the market for gesture-tracking gaming systems throughout 2011 and beyond.
Here's a look at what's coming in the months ahead.
Like the Wii, the Move system features a wand-like controller that gamers wave about to control their avatars onscreen.
Angling to entice hard-core players as well as casual game enthusiasts, Sony's upcoming 3D TV-enabled sci-fi shooter "Killzone 3" and military-themed blaster "SOCOM 4: U.S. Navy SEALs" both will feature PlayStation Move support.
Each offers more intuitive aiming through physical gestures, and looks to make a case for how well this new tech can integrate with more die-hard gameplay experiences.
Titles with a more mainstream focus like "MLB 11: The Show" (batting), "PlayStation Move Heroes" (arcade mini-games), "LittleBigPlanet 2" (platform hopping) and "Sorcery" (spell casting via a plastic wand) are also planned.
And nearly 50 titles in all genres, from adventure to sports to downloadable PlayStation Network games and third-party outings such as "Time Crisis: Razing Storm," are now available for the Move.
Microsoft's hit system, which uses cameras to read players' full-body movements and translate them into action or sports games, will extend its immediate focus to a range of social applications.
Up to eight virtual avatars, all reflecting their users' actual facial expressions, can hang out in virtual chat rooms -- including performance stages and other imaginative environments -- via Xbox Live. You can even record videos of their conversations.
The Kinect also will feature such motion-controlled entertainment options as casual videoconferencing and, come spring, the ability to use hand gestures and voice commands to enjoy streaming video from Netflix and Hulu Plus.
New upcoming titles for the Kinect, which cover a range of interests and play styles, include psychedelic shooter "Child of Eden," automotive epic "Forza Motorsport 4" and the humorous trivia game "You Don't Know Jack."
Tablets, PCs and handheld 3-D
New gyroscope-equipped tablet PCs such as Motorola's Xoom, Acer's new Android slate and Apple's rumored iPad 2 also promise potential new ways to bring motion controls to handheld gaming. Expect more titles that, like some popular iPhone games, let you tilt to steer on-screen vehicles, pilot dogfighting planes or aim virtual cross hairs.
Motion controls manufacturer Softkinetic also plans to offer controller-free games shortly through its proprietary "iisu" 3-D gesture-recognition technology.
PC gamers can soon enjoy motion control capability outside of racing chairs and plastic putting simulators. Sixense's Hydra controller, which uses a magnetic field to detect your movements, is due in April, packaged with the popular puzzle game "Portal 2."
The Nintendo 3DS, a handheld gaming system capable of producing three-dimensional special effects without the need for special glasses, will include touchscreen controls and dozens of custom games when it arrives March 27.
From touch-sensing Android smartphones to gesture-tracking TV remotes and accessories like Nyko's Power Shot, which transforms the PlayStation Move into a plastic rifle, motion controls will be everywhere in 2011.
What's next for these technologies appears to be a broader range of everyday uses that more inventively tap into the power of your own body -- the most intuitive controller of all.
Posted by

E WorlD
at 6:07 PM
No comments:

2011/01/19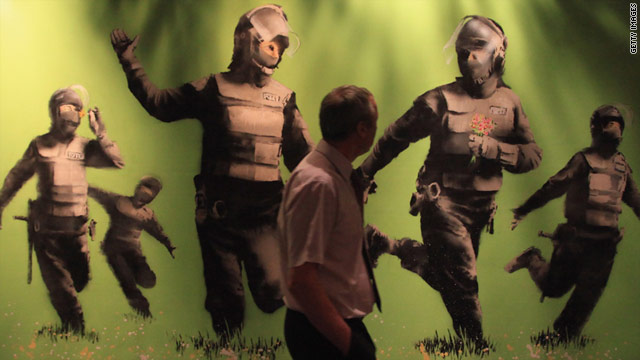 UK artist Banksy, he of the guerilla techniques and ever-increasing popularity, is about to be unceremoniously identified to the highest bidder in an eBay auction, which ends Wednesday.
At press time, the winning bidder is offering one slim dollar shy of a million. Bidding started at $3,000; the auction has had 38 bids.
In the listing, the seller states, "I have uncovered [Banksy's] identity by matching up the prices of his sold pieces to corresponding tax records. I will reveal no more details... I give you 100% assurance that it is most certainly the full name of the street artist known as 'Banksy.'"
The seller also says that eBay had previously terminated his auction because he was selling an intangible good; the seller is now technically offering for auction a piece of paper containing Banksy's legal name.
The party offering Banksy's identity is hardly a power seller, having a fairly sparse but mostly positive record that dates back to 2001.
At this time, we have no way of determining whether the winning bidder is being taken to the cleaners to the tune of $1 million or whether the seller is legitimately peddling an exclusive glimpse into the identity of a public figure who clearly wants to be anything but public.
However, we read on the artist's website that not all Banksy work that is sold necessarily corresponds to the artist himself.
"Banksy neither produces or profits from the sale of greeting cards, mugs or photo canvases of his work," the site reads. "He is not represented by any of the commercial galleries that sell his paintings secondhand."
Banksy gained a bit of stateside exposure in October 2010 when hedirected an opening sequence for "The Simpsons."
What do you think of this auction? Would you want to know Banksy's identity, or do you think he deserves to live privately and relatively anonymously? Let us know your thoughts in the comments.
Posted by

E WorlD
at 4:44 PM
No comments:




Facebook wants your address and mobile phone number.
But it's not sure exactly how to ask.
It's a complicated digital courtship, particularly because Facebook doesn't just want this data for itself -- it wants to "share" this info with all of its friends, which in this case happens to be app developers (think FarmVille, Compare People and Where I've Been -- all that non-Facebook stuff that pops up in your news feed).
That may sound confusing, but the debate over this Facebook phone-number-sharing -- which caused Facebook to backtrack a bit from the request after bloggers and users expressed outrage this weekend -- essentially comes down to two related questions:
Why does Facebook want your phone number and address?
And, based on what you think about that answer, is it in your interest to hand this personal information to the network?
Let's start with the first question.
Facebook -- perhaps obviously -- doesn't want to call you to chat, or stop by your house for tea. So what's its motive for asking for these personal details?
The social network says this info helps app developers create programs and games and little social widgets that make Facebook more fun and useful.
Potential examples: A travel app could send you text messages if your flight is going to be late; a shopping app wouldn't have to ask you where to send a gift you bought -- it would just send it to your default Facebook address.
In both of these instances, the advantage is convenience. You don't have to retype your address every time you use a shopping app. This is somewhat similar to how many internet users deal with Amazon or iTunes. You save your address and even credit card number so that purchases require one click.
But Facebook is different. Sharing phone numbers and addresses with Facebook means that data potentially could go out to an unvetted list of app developers, some of whom would trick users to get information that they could sell to advertisers or spammers, said Chester Wisniewski, senior security advisor of Sophos, a security company that's been critical of Facebook on this point.
This issue of what information app developers get and how is what stirred up all the controversy this weekend. Facebook announced late Friday -- so late that a blogger at All Facebook suggested the company was trying to hide the news -- that it was making "user's address and mobile phone number accessible as part of the User Graph object."
Ahem. So, basically, the company made it possible for users to give these personal details to app developers if they chose to do so.
The uproar that followed concerned how confusing this whole process is for average Facebook users.
The blog ReadWriteWeb put it this way:
"There is very little here to call attention to the fact that Facebook would now be sharing something that it previously did not share."
Facebook acknowledged these concerns in a blog post Tuesday. The company backpedaled from its earlier statement, saying it still wants to give developers access to phone numbers and addresses, but it hasn't figured out the best way to present this information in a clear way to the public.
Facebook's Douglas Purdy phrased this in onward-to-the-future-speak:
"On Friday, we expanded the information you are able to share with external websites and applications to include your address and mobile number. ... Over the weekend, we got some useful feedback that we could make people more clearly aware of when they are granting access to this data.
"We agree, and we are making changes to help ensure you only share this information when you intend to do so. We'll be working to launch these updates as soon as possible, and will be temporarily disabling this feature until those changes are ready. We look forward to re-enabling this improved feature in the next few weeks."
So that was a lot of setup to get to the heart of this section:
Why does Facebook want your phone number?
Part of it is that ease-of-use stuff. But the big-picture answer is that Facebook wants to be, like Google, a personalized center of the internet -- the hub that other websites must branch off from.
The site is on its way to being just that, since lists of users' friends, preferences and, increasingly, contact info are logged on this one website.
The blog All Facebook explains further:
"By serving as a centralized identity provider, the social network makes registering for new sites as easy as a couple of clicks."
Now onto that second question:
Do you need to give this information to Facebook? Or do you want to?
Wisniewski, at Sophos, said that should be up to the individual.
But the real key, he said, is that Facebook should make it easy -- or at least possible -- for users to avoid giving up this info if they choose.
You can do that now. But you really have to know where to look.
If you don't want app developers, who could use your information to develop cool apps or could sell it to scammers, to know your address and phone number then don't give that information to Facebook in the first place.
Check your "account settings" to see whether you've already given up that information.
You also can control the information you give to app developer -- again, if you know what to look for. When you enable a new app, a "dialogue box" pops up on screen that lists the information you're about to give away.
Look carefully at that list and if you don't trust the app with that info, then don't approve it, Wisniewski said.
To see what info you've already given up to developers, go to "account," then "privacy settings" and then, at the bottom of the page, "apps and websites." You'll find a list of "apps you use." Click on "edit settings" and you get to look at that list, see what info you're giving over, to whom, and what info the app most recently accessed. Click on an individual app name and then on "show details" to see what data was most recently accessed.
For now, Wisniewski suggested erring on the side of caution:
"As far as advice goes, I certainly wouldn't share that information and don't see any reason for it to be stored anywhere but on my friends' cell phones, to be honest," he said.
Others are more comfortable with the idea of sharing info with apps.
The blog Inside Facebook writes:
"Most critics have immediately focused on how greedy developers will request the data in order to spam users, which is a valid concern. But the access will also enable the creation of apps that keep friends connected via SMS and facilitate e-commerce by pre-populating delivery details.
"Though the risks are high, Facebook should not impede innovation for fear of spammers, but instead push forward while minimizing negative outcomes by helping users make more informed decision(s)."
Posted by

E WorlD
at 4:39 PM
No comments:

In late 2010, NASA contracted three design teams from Lockheed Martin, Northrop Grumman and The Boeing Company to work on the models for the rest of 2011. The three teams have already released artist conceptions of what the planes look like, including one by Boeing that's a dead ringer for the stealth bomber, and another that has the engine perched at the back.
The designs will fly up to 85 percent of the speed of sound, cover a range of approximately 7,000 miles and carry between 50,000 and 100,000 pounds of passenger or cargo payload.
"Each design looks very different, but all final designs have to meet NASA's goals for less noise, cleaner exhaust and lower fuel consumption," according to the NASA website.
"For the rest of this year, each team will be exploring, testing, simulating, keeping and discarding innovations and technologies to make their design a winner."
The project is sponsored by NASA's Environmentally Responsible Aviation Project, which is under the agency's Aeronautics Research Mission Directorate in Washington.
The project is currently developing technology that can cut harmful emissions in aircraft by half, burn 50 percent less fuel than contemporary models and shrink geographical areas affected by airport noise by 83 percent.
Posted by

E WorlD
at 4:34 PM
No comments: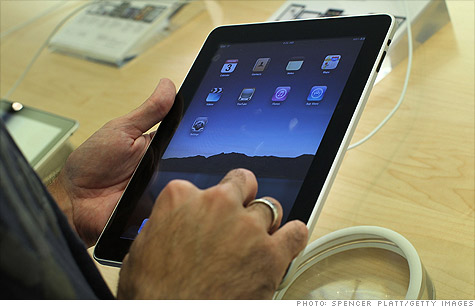 Federal prosecutors said Tuesday that they have filed charges against two people accused of hacking AT&T's website and harvesting the e-mail addresses of 120,000 iPad owners.
Andrew Auernheimer, 25, of Fayetteville, Ark., and Daniel Spitler, 26, of San Francisco were taken into custody Tuesday morning by the FBI. Both men were charged with an alleged conspiracy to hack AT&T's (T, Fortune 500) servers and for possession of personal information obtained from the servers.
Auernheimer was arrested in Fayetteville while appearing in Arkansas state court on unrelated drug charges. Spitler surrendered to FBI agents in Newark, N.J., where the case is being pursued.
The charges stemmed from an exploit that took place seven months ago. In June, about one month after the iPad 3G went on sale, AT&T announced that it had fixed a security hole that inadvertently exposed the e-mail addresses of thousands of iPad 3G owners.
The company's announcement came shortly after tech blog Valleywag posted an expose of the breach. In the Valleywag article, hacker group Goatse Security said it had exploited a vulnerability on AT&T's website to harvest the e-mail addresses iPad buyers provided to activate their devices.
The list of affected users was star-studded, including major political figures, military officials, media executives and top politicians. The e-mail addresses the hackers grabbed included those of of former White House chief of staff Rahm Emanuel, Hollywood producer Harvey Weinstein and New York City Mayor Michael Bloomberg.
The attack: The federal complaint, filed in U.S. District Court in New Jersey, cast the intrusion as a "brute force" attack on AT&T's servers perpetrated "for the express purpose of causing monetary and reputational damage to AT&T."
But what the accused hackers actually did is fairly low-tech and exploited a hole that AT&T left wide open.
Auernheimer and Spitler discovered that plugging an iPad ICC-ID -- a unique identification number for each device -- into a publicly available script on AT&T's website would return the e-mail address associated with the ID. They created a script that randomly guessed at ID numbers. When it hit a correct one, it would retrieve the associated e-mail address.
That approach netted them a list of more than 120,000 e-mail addresses.
"This hack was very simple, but major in its significance," said Hemanshu Nigam, founder of cybersecurity consulting firm SSP Blue.
Auernheimer and Spitler didn't try to profit from their hack. They say their goal was simply to draw attention to the vulnerability.
A rep for Goatse Security, a loose hacker collective Auernheimer and Spitler participated in, said in an e-mail that the charges would not make the group reconsider any future actions.
"Goatse Security will continue to release its research in an ethical manner," the rep wrote. "[We] still holds the position that no criminal act was committed. Spitler and Auernheimer acted entirely within the law, and entirely for the interests of public security."
The iPad hack took "just over a single hour of labor total," they wrote.
More recently, they've expressed shock at the vehemence of the law enforcement crackdown against them.
"None of us made any money off of this disclosure. We did it in public interests," they wrote in a June blog post after the FBI began investigating.
What's next: Spitler appeared in court in New Jersey on Tuesday, where he was banned from using the Internet outside of work. Spitler is employed as a security guard at a Borders bookstore.
Spitler was required to surrender his passport, and he is permitted to travel only to California and New Jersey. He waived his right to a preliminary hearing, and he will appear in court again March 7.
Apple said it had no comment. An AT&T spokesman said in an written statement that the company "take[s] our customers' privacy very seriously and we cooperate with law enforcement whenever necessary to protect it."
Posted by

E WorlD
at 4:30 PM
No comments: