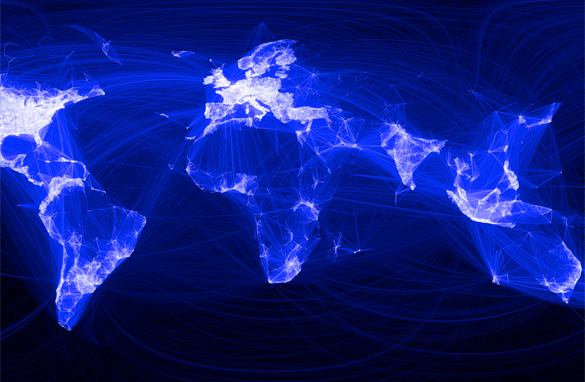 There is something plainly fascinating about Paul Butler's map of the world. The Facebook intern used data from the social networking site to create a map of people's friendships across the globe and to see how they related to geographical and political boundaries. After experimenting with different techniques, he ended up using arced, weighted lines to connect cities based on the volume of the Facebook friendships between them.
In Butler's words, the result is "a surprisingly detailed map of the world. Not only were continents visible, certain international borders were apparent as well. What really struck me, though, was knowing that the lines didn't represent coasts or rivers or political borders, but real human relationships."
The lines also map out, to a large extent, Facebook's global penetration. One is struck by the fluorescent clusters in the United States and Europe, where Facebook is widely used; the clear contours of Indonesia, home of the most Facebook users in Asia; and the giant hole where China should be.
Blocked by the Great Firewall, Facebook can boast few active users in China. Local social networks like Renren, Xiaonei and Kaixin001 dominate the market. Instead of connecting through Facebook Chat, millions upon millions of users chat away their work days on Tencent's QQ and MSN Messenger.
The absence of China on Facebook's Visualizing Friends Map did not go unnoticed among China's microbloggers, as Wang Xiaojie and Jo Ling Kent from CNN's Beijing bureau found when they combed the Chinese web.
"At first sight I wonder why China is not on the map; but after seeing the Facebook logo at the bottom, I know why," says one user.
Another asks: "When can China shine on this map that includes 500 million other people?"
One savvy netizen even spots an additional reason for China's absence from the map. Chinese users who circumvent the country's internet restrictions by using a VPN server appear as users in foreign cities. "So even if we use Facebook in China, we still can not be seen on the map. Haha!, " he writes.
Also under discussion online: Facebook CEO Mark Zuckerberg's first visit to China. It may be a personal vacation, but he appears to be making the rounds at the country's top Internet companies. He toured Baidu headquarters with Robin Li, founder of China's dominant search engine, and has since been reportedly spotted at the offices of leading web portal Sina.com.
Employees at the Chinese companies have been snapping pictures of Zuckerberg and posting them online. It's the closest they'll get to the Internet Wunderkind.
After all, they can't friend him on Facebook.